The Institute: Mission & Vision
The Terezín Composers Institute is a center dedicated to Terezín Composers´ research, documentation and popularization. It integrates the scholarly activities of many foundations and coordinates the efforts of international research on Terezín Composers. It also serves as a study center, that provides a full information service to scholars as well as public interested in the life and work of Terezín Composers.
On a broader scale, the Institute shall devote effort to carry on research on music and musical production of the Holocaust including cabaret, songs or operas created or performed during that period.
The most important activity of the Institute is the Complete works project that foresees to assemble complete and critical edition (also in cooperation with publishers) of each and every Terezín composer.
The mission of the Institute is to bring under one roof all available documents written by Terezín Composers as well as all written materials about them. Musicologists, musicians and the public can thus have the possibility to study the composers´ life and work within the context of its creation. To this end a library will be created; it will contain printed scores, copies of manuscripts, musicological literature of 20th century music and an extensive archive of pictorial documents and records. It is foreseen that the library will also collect materials on Holocaust music or culture on the broader scale.
Terezín composers have had large audience during their lifetime and continue to reach global audience today. There are many handwritten scores, correspondence and other documents located in numerous of public institutions or in the possession of private individuals all over the world. The Institute sets out preservation, collecting or copying of these documents as its long-term goal. It will be a demanding task due to the disparsity of documents and absence of focused research until now. Nevertheless, we envisage that after compiling all the material, Terezín will be the venue for those who want to explore Terezín composers work and that the Institute will be able to provide concise information to interested parties from all over the world. The institute shall thus preserve cultural heritage that might otherwise be lost or forgotten.
Research, educational activities and general public awarness projects
Complete works, concise critical edition, digital edition
Library, digital library
Year book
Newsletter
Membership
Contribution to bi-annual conference & close cooperation therewith
Music Festival – close cooperation
Envisioned Cooperation & Partnerships, not limited to:
Czech: Terezín Initiative, Terezín Municipality, Terezín Memorial, Federation of Jewish Communities in the Czech Republic, Jewish Museum Prague, Musical Faculties, Chambers of Commerce
Global: Holocaust Memorial Museum Washington, Yad Vashem, Beit Terezin, Defiant requiem Foundation, Berlin Jewish Museum, HANS KRÁSA STIFTUNG, Terezin Music Association Boston, Viktor Ullmann – Paul Sacher Stiftung Basel, Musical & Art Faculties, governements or public bodies from all over the world
Local: Close cooperation and mutual support with both Music Festival Everlasting Hope: Gustav Mahler & Terezín Composers and Terezín Composers´ Conference.
Master classes (together with the Music Festival Everlasting Hope: Gustav Mahler & Terezín Composers): bringing young international musicians to Terezín for two weeks of master classes about Terezín composers` music. The objective is to present, encourage, to teach and coach music of Terezín Composers and to create performances with these young performers for their peers at Terezín and in Prague.
Funding
We expect major private & corporate donations, including other donor's initiatives.
And we would welcome funding or scholarships, professorships from governmental research and educational bodies and their funding organizations.
We hope to establish formal cooperation arrangements with as many as possible supporting parties.
Legal status
Non profit organization established by private, corporate, and other bodies.
The Terezín Composers Institute was founded as an Association according to the Czech Law: zapsaný spolek.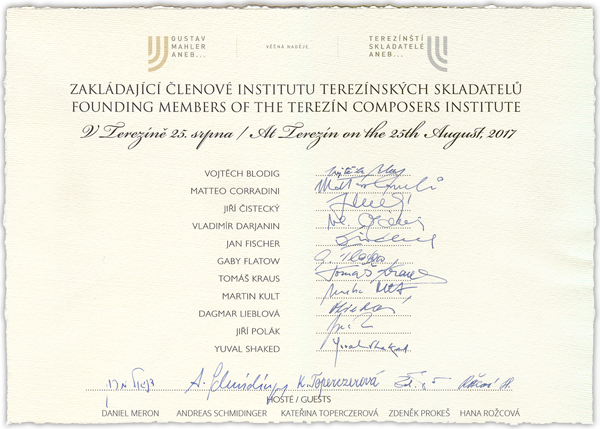 The Terezín Composers Institute was legally registered on August 22nd, 2017; Czech Identification Number is 06352651.
The seat and offices are situated at Akademická 409, 411 55 Terezín, Czech Republic.
Members of the Executive board were elected as follows:
Mrs. Gaby Flatow, Prof. Yuval Shaked, Mr. Martin Kult and Mr. Jiří Polák, who was elected as chairman of the Executive Board.
Website
The Terezin Composers Institute
Download
Call for Papers –
2018 Terezin Composers Conference (pdf 472 kB)
Call for documents, materials and information (pdf 779 kB)
Call upon Performing Musicians & Lecturers for Recordings and Texts (pdf 405 kB)
Statutes (pdf 118 kB)
News
Monday, August 19th – Thursday, August 22th, 2019

INTERNATIONAL YOUTH ENCOUNTERS IN TEREZÍN
MUSIC & LECTURES SESSIONS
We would kindly like to invite you to Terezín from Monday, August 19th, to Thursday, August 22nd, 2019. International Youth Encounters in Terezín will be held during these days.
Event will include music performances and lectures on the subject matter of musical creativity and activity in Terezín during the ghetto times.
We provide accommodation and meal for all participants.
Please contact us at spurny@terezincomposersinstitute.com.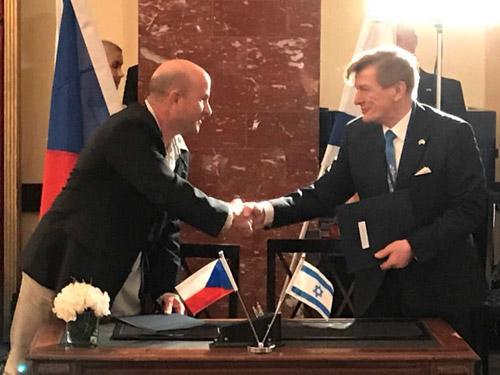 November 25th, 2018, Jerusalem
Concluding a memorandum between The Terezín Composers´ Institute and the University of Haifa in the presence of President Miloš Zeman in Israel
Press Release of 25 November 2018 download here